FROM STICK FIGURE TO MASTER PAINTER
EVERYTHING YOU NEVER KNOW YOU NEEDED TO BECOME A THINKING ARTIST
Learn From Professional and International Artist Leonie.E.Brown
Have you ever dreamed of being able to paint like a master?
We will take you from hobbyist and admirer to beginner artist.
Imagine being able to create beautiful, expressive paintings that capture the world around you or your own unique vision.
With our comprehensive art course, you can learn everything you need to know to become a great painter, from the basics of colour mixing and brushstrokes to advanced techniques like blending, impasto, and palette knife usage.
Our course is designed for students of all levels, from beginners to experienced artists. We'll start you off with the basics, like getting to know your materials and learning the fundamental painting and drawing techniques. Then, we'll move on to more advanced topics like colour theory, design, and composition. Along the way, you'll learn from experienced and qualified instructors, and you'll have access to a supportive community of other artists.
Master all the essential painting techniques, color mixing, and design principles you need to create stunning paintings.
Unlock the Secrets to Becoming a Successful Independent Artist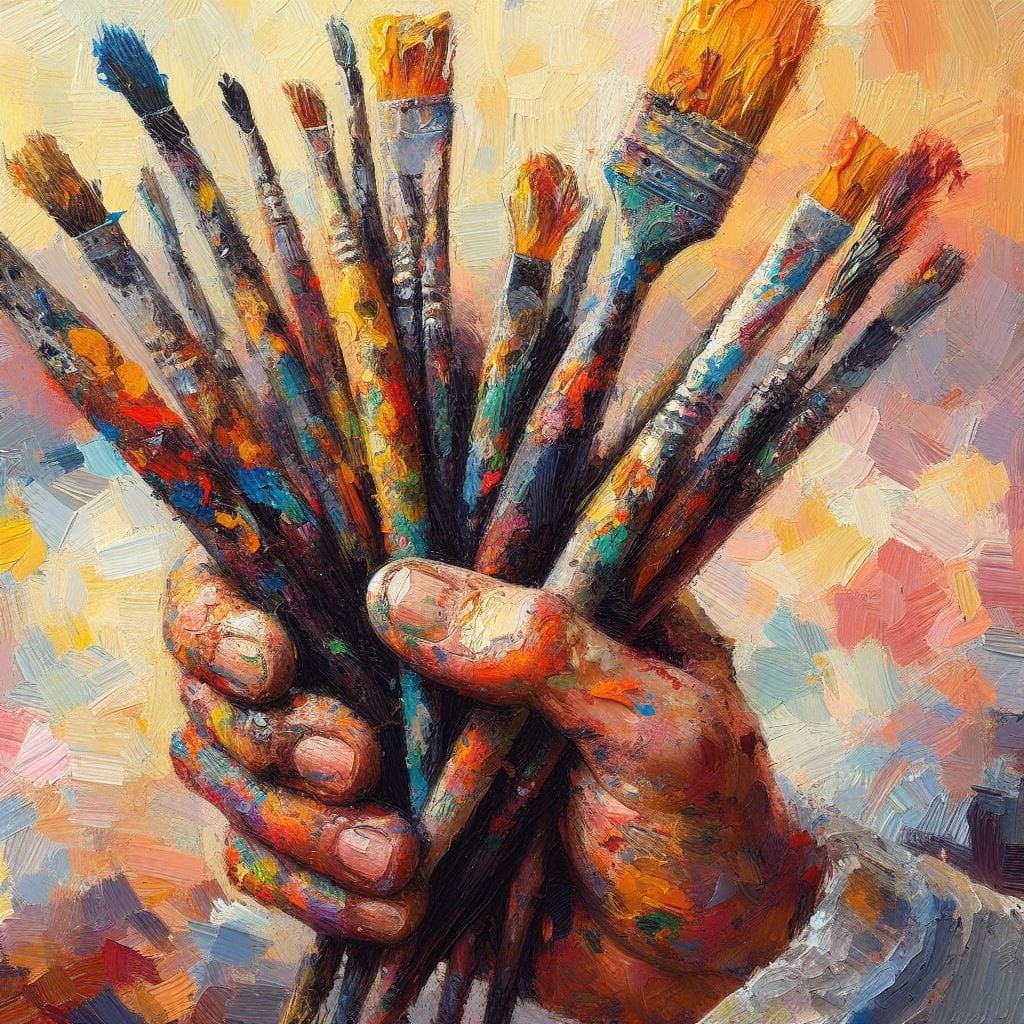 Module 1: Introduction to Drawing, Painting and Techniques
MODULE ONE - FROM STICK FIGURE TO MASTER PAINTER
This module will cover all the basics of painting, including getting to know your materials, learning the fundamental painting and drawing techniques, and creating basic effects.
This is the course that will fill in all your lacking foundations. Answer your questions and expose you to the knowledge you didn't even know you didn't know.
EVERYTHING YOU NEVER KNOW YOU NEEDED TO BECOME A THINKING ARTIST
Learn over 31 essential painting techniques.
Master colour mixing and colour harmony.
Learn the principles of design and composition
Learn to draw and paint anything, all while being a part of a vibrant community of fellow artists.
Gain the skills and confidence.
Why do you need to learn the basics of painting?
To make conscious and thoughtful decisions about your artwork.
To analyze and understand the techniques and tools you're using.
To create paintings that are both technically and artistically sound.
If you're serious about improving your painting skills, start with the basics. Invest the time and effort to master these foundational elements, and you'll be on your way to creating incredible works of art.
Sign up for our beginner's painting course today and start your journey to becoming a better artist!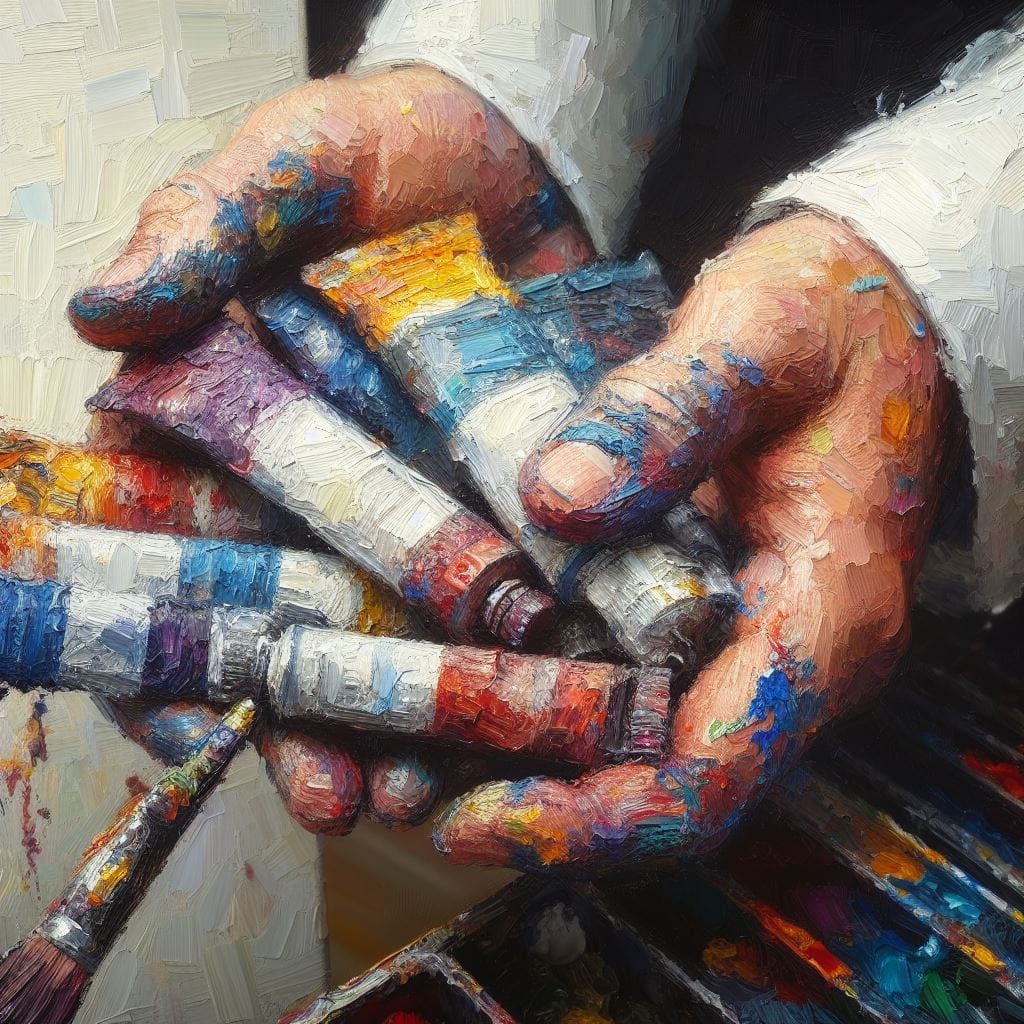 MODULE TWO - THE KNOWLEDGEABLE PAINTER
In this in-depth course, you'll gain access to step-by-step demonstrations of 31 distinct painting techniques.
From blending in the style of Vermeer to creating Van Gogh's signature chaotic patterns, you'll add a diverse array of skills to your artistic toolkit.
Along the way, you'll also learn foundational drawing methods, colour mixing, brush control, and other essential techniques. With the guidance of a professional artist and experienced instructor every step of the way, you'll gain the confidence to bring any creative idea to life on the canvas.
Step-by-step, you'll add an expansive range of methods to your artistic skillset while completing a unique masterpiece with each new lesson. Discover the joy of painting in a creative community as you unlock your inner artist.
Master 31 + Painting Techniques and Create 31 + Stunning Works of Art
Learn over 31+ essential painting techniques.
Master colour mixing and colour harmony.

This in-depth set of art classes provides the rare opportunity to master 31 distinct painting techniques, from luminous glazing, blending, cross blending, impasto, scumbling, pointillism and more, to lively abstract patterns and beyond.

As you fully explore each new method through hands-on painting, you'll complete a stunning work of art each session.

By the end of our classes, you'll have 31 diverse pieces you'll be proud to display.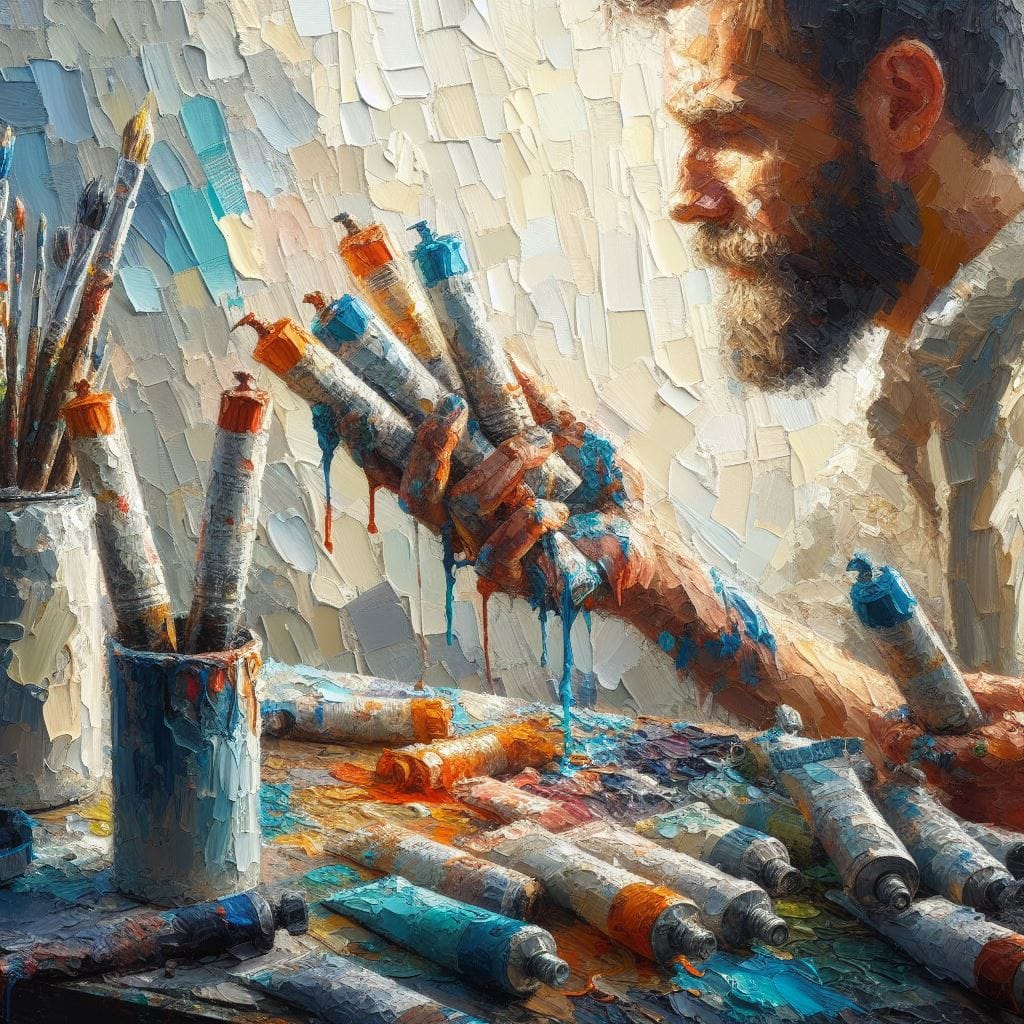 Module 3: The Magic of Colour
Master vibrant, emotional colour
Mixing captivating colours often feels like an unattainable skill for aspiring artists. But our comprehensive course provides the missing piece—guiding you step-by-step as you unlock the secrets of vibrant, harmonious colour mixing. Learn from masters like Vermeer and Van Gogh as you create stunning large-scale paintings.
Unlock your full artistic potential by mastering the magic of color.
This course reveals the science and emotion behind colour in a practical, hands-on format.

We start by unpacking the fundamentals: primary, secondary, and tertiary colours, tints, tones, and shades.

Core concepts like colour temperature and colour harmony take shape through the mixing of rich, nuanced palettes.

Complex methods like triadic and analogue harmony and split complementary hues will become second nature.

The curriculum interweaves colour theory with technique as you complete diverse paintings using a different colour scheme for each.

Bold impasto mountains, luminous fruit still life, azure seascapes, and more—you'll gain confidence mixing any colour you can envision.

With the option to paint at your own pace, you control the schedule.

Our community enriches the experience with critiques and encouragement.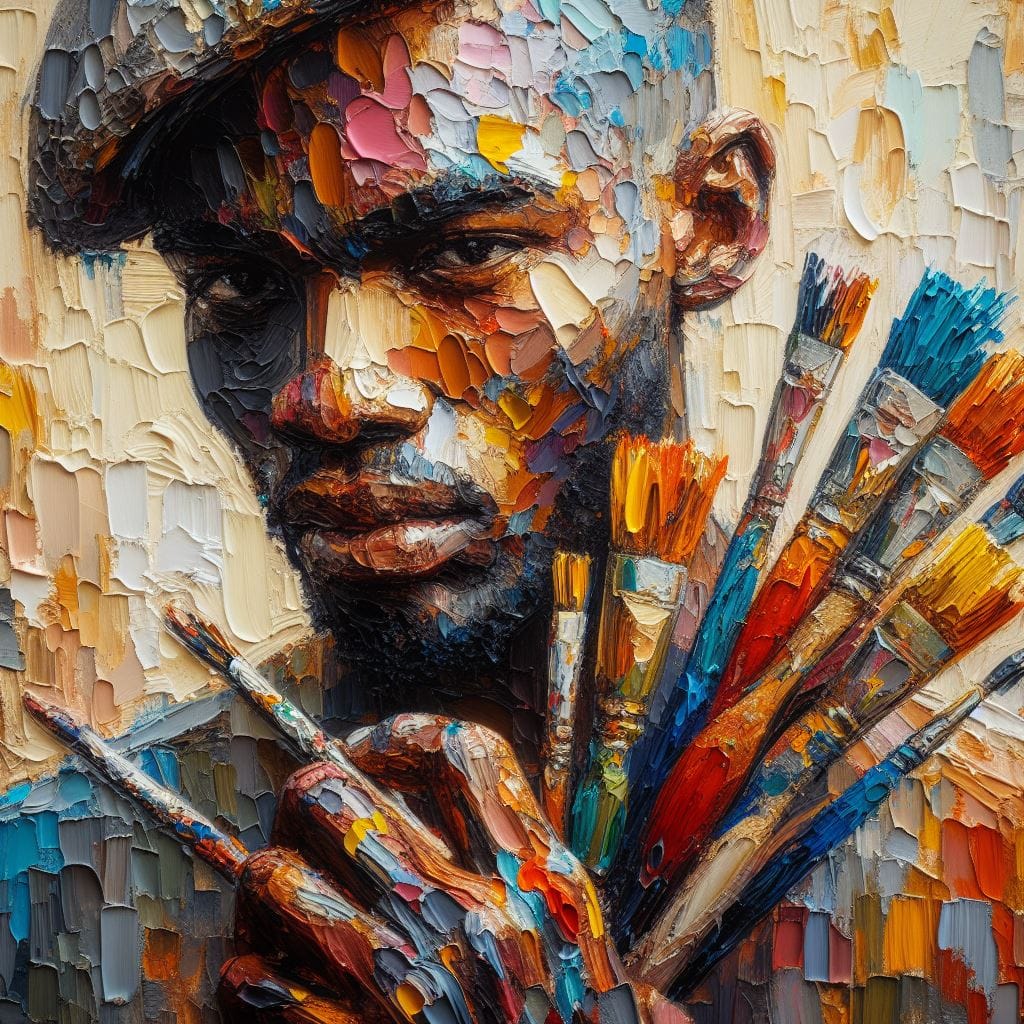 Module 4: Master the Composition Game
Create Captivating Paintings
Ever feel like something is missing in your paintings but can't pinpoint what? Or struggle to guide the viewer's eye to focal points? Many artists find composition ambiguous and frustrating. But with the right instruction, you can master the elements of design to create captivating art brimming with meaning and perspective. Let us guide you on an engaging journey towards compositional mastery.
Learn the Essential Elements of Compelling Design
This course provides concrete, applicable techniques for dramatic and purposeful composition.
First, you'll grasp the basic principles, like the power of the rule of thirds and horizon lines for balanced scenes.
Next, direct attention seamlessly with focal points, contrast, and converging lines.
Specialised perspectives like bird's eye and worm's eye views add intrigue.
Each lesson trains you to critically examine compositions and implement improvements through hands-on painting exercises catered to your skill level.
With feedback from the instructor and peers, you'll gain confidence in your compositional awareness.
The skills you learn will elevate your art by enhancing visual impact and meaning.
Learn From Professional and International Artist Leonie.E.Brown
Step-By-Step Personal Instructions And Easy Repeatable Recipes
Learn from experienced and qualified international artist and instructor
Explore new possibilities in painting with a variety of tools and techniques.
Learn to understand your brushes and choose the right equipment to define your style.
Join us on a journey of self-expression and discovery.
Art classes for all levels, at an affordable price!
Whether you're a complete beginner or a seasoned artist, our classes will teach you the essential skills you need to create stunningly realistic drawings and paintings. You'll learn how to identify and break down any object into its four basic shapes, see the minute details using negative space, proportion, and measuring techniques, and create three-dimensional illusions.
learn at your own pace and on your own schedule
Our self-paced classes teach you everything you need to know about painting, from the basics of color theory and brushstrokes to advanced techniques like glazing and impasto. You'll learn how to paint with any palette, and you'll master 37 essential painting techniques used by the world's greatest artists, including Rembrandt, van Gogh, and Monet.
See What Our Happy Customers Say
Leonie Brown is an amazing artist who brings the most ordinary to life -opening and taking one's heart on the "deep and beautiful work of soul-making" (Sue Monk Kidd) we are all on.
She is a gifted teacher who takes you through the process of art step by step, giving you the tools and skills to work independently and with creative freedom. She is encouraging when you think you can't draw or paint and has the gift of "stepping on one's shoes without messing up their shine".
Thanks, Leonie
Pam Topham
Leonie was the best art teacher I ever had!
She pays equal attention to every student in class, making sure to teach or give advice to one after the other while taking their different skill levels into account.
She is always friendly and respectful and is not only interested in her student's progress but also in them enjoying what they do.
No matter what skill level you are, even if you're beginning from scratch, I would definitely recommend LifeArt School.
Denise Reisenbauer
This is where I go to Art School on Friday mornings. For me, this is a dream come true, a second chance to do what I love and do it well.
Leonie Edna Brown teaches a complete art curriculum that starts you off with the absolute and fundamental basics and takes you all the way through to becoming a professional artist. I am still early in my journey, and I can tell you that my eyes have been opened in new ways, to see more clearly.
For those who are now sufficiently envious but cannot get to actual physical classes, Leonie has new online classes! So you too can learn in your own time! Go check it out!
And thank you, Leonie, for being the wonderful teacher you are!
Belinda Mesecke
FREQUENTLY ASKED QUISTIONS