Verdacchio / Underpainting
Vermeer, Leonardo and Michelangelo were some of the masters that used this technique.
After the initial outline drawing was completed, Vermeer began the "dead coloring" (or under painting as it is called today), one of the most important stages in his working procedure. The under painting technique greatly facilitates the realization of finely balanced compositions, accurate depictions of light and chromatic subtleties.
In its simplest terms, an under painting is a monochrome version of the final painting intended to initially fix the composition, give volume and substance to the forms, and distribute darks and lights in order to create the effect of illumination.
In its simplest terms, an under painting is a monochrome version of the final painting intended to initially fix the composition, give volume and substance to the forms, and distribute darks and lights in order to create the effect of illumination.
Under paintings were usually executed in warm earth tones on neutral gray grounds.
Raw umber, Burnt Sienna mixed from light to dark and black or Paynes Grey, also mixed with white at times mixed with black, were frequently used for this purpose. http://www.youtube.com/watch?v=ZWZ7LcPh3v4
http://lifeartschool.co.za/what-is-the-difference-between-bistre-grisaille-and-verdacchio/
Impressionists
Radicals in their time, early Impressionists violated the rules of academic painting. They constructed their pictures from freely brushed colours that took precedence over lines and contours, following the example of painters such as Eugène Delacroix and J. M. W. Turner. They also painted realistic scenes of modern life, and often painted outdoors. Previously, still lifes and portraits as well as landscapes were usually painted in a studio.
The Impressionists found that they could capture the momentary and transient effects of sunlight by painting en plein air. They portrayed overall visual effects instead of details, and used short "broken" brush strokes of mixed and pure unmixed colour—not blended smoothly or shaded, as was customary—to achieve an effect of intense colour vibration.
In the early 1860s, four young painters—Claude Monet, Pierre-Auguste Renoir, Alfred Sisley, and Frédéric Bazille—met while studying under the academic artist Charles Gleyre. They discovered that they shared an interest in painting landscape and contemporary life rather than historical or mythological scenes. Following a practice that had become increasingly popular by mid-century, they often ventured into the countryside together to paint in the open air, but not for the purpose of making sketches to be developed into carefully finished works in the studio, as was the usual custom. By painting in sunlight directly from nature, and making bold use of the vivid synthetic pigments that had become available since the beginning of the century, they began to develop a lighter and brighter manner of painting that extended further the Realism of Gustave Courbet and the Barbizon school. A favourite meeting place for the artists was the Café Guerbois on Avenue de Clichy in Paris, where the discussions were often led by Édouard Manet, whom the younger artists greatly admired. They were soon joined by Camille Pissarro, Paul Cézanne, and Armand Guillaumin.
After Emperor Napoleon III saw the rejected works of 1863, he decreed that the public be allowed to judge the work themselves, and the Salon des Refusés (Salon of the Refused) was organized.
While many viewers came only to laugh, the Salon des Refusés drew attention to the existence of a new tendency in art and attracted more visitors than the regular Salon. During the 1860s, the Salon jury routinely rejected about half of the works submitted by Monet and his friends in favour of works by artists faithful to the approved style. 
In 1863, the Salon jury rejected Manet's The Luncheon on the Grass (Le déjeuner sur l'herbe) primarily because it depicted a nude woman with two clothed men at a picnic.
While the Salon jury routinely accepted nudes in historical and allegorical paintings, they condemned Manet for placing a realistic nude in a contemporary setting. The jury's severely worded rejection of Manet's painting appalled his admirers, and the unusually large number of rejected works that year perturbed many French artists.
Pointelism
Pointillism /ˈpɔɪntɨlɪzəm/ is a technique of painting in which small, distinct dots of color are applied in patterns to form an image.
Georges Seurat and Paul Signac developed the technique in 1886, branching from Impressionism. The term "Pointillism" was first coined by art critics in the late 1880s to ridicule the works of these artists, and is now used without its earlier mocking connotation.
The technique relies on the ability of the eye and mind of the viewer to blend the color spots into a fuller range of tones.
Pointillism is more focused on the specific style of brushwork used to apply the paint. It is a technique with few serious practitioners today, and is notably seen in the works of Seurat, Signac and Cross. However, see also Andy Warhol's early works, and Pop Art.
Glazes
Glazes can change the chroma, value, hue and texture of a surface. Drying time will depend on the amount and type of paint medium used in the glaze. The medium, base, or vehicle is the mixture to which the dry pigment is added. Different media can increase or decrease the rate at which oil paints dry.
Often, because a paint is too opaque, painters will add special media or a lot of medium to the paint to make them more transparent for the purposes of glazing. While these media are usually liquids there are solid and semi-solid media used in the making of paints as well.
For example, many classical oil painters have also been known to use ground glass and semi-solid resins to increase the translucency of their paint.
In oil painting, the simplest form of a glaze is a thin, oily, transparent layer of paint spread over the top of an opaque passage that has been given some time to dry. Light travels through the glaze and is reflected back off of the opaque layer below. This can cause a glowing effect similar to looking at a brightly lit white wall behind a film of colored cellophane. The thin oily layers of a glaze can facilitate the rendering of details that would be more difficult with opaque paints—e.g. the complexities of skin tones.
When multiple layers of glazes are used, the colors in all visible layers can appear combined. However, the pigments are not physically mixed, since the paint is left to dry before each successive glaze is applied. The artist may apply several layers of paint with increasing amounts of oil added to each successive layer.
This process of applying the fat layers (more oil in the painter's medium) over the lean layers (less oil) can minimize cracking; this is the "fat over lean" principle.
Many painters juxtapose glazes and opaque, thick or textured types of paint application (that appear to push forward) as a means to increase surface variety, which some painters feel increases a painting's drama, brightness and depth.
Fluid paints can be used like watercolors, or for glazing and washes. To create a more fluid texture, water is added to the
paint. The ratio of paint to water depends on how thick the glaze is expected to be. An opaque glaze or paint consists of more paint than water, and will give a more solid color. A translucent glaze or paint will be the opposite, consisting of slightly more water than the opaque version, and will have a smoother texture. Translucent glazes show more of the colors underneath the paint compared to opaque glazes.
The paint should be watered no more than 50 percent or the paint will not stick to the canvas. After mixing the paints, allow time for the air bubbles to rise to the surface.
This will be crucial in many techniques, especially in pouring paints.
Palette Knife 
A palette knife is a blunt tool used for mixing or applying paint, with a flexible steel blade. It is primarily us
ed for mixing paint colors, paste, etc., or formarbling, decorative endpapers, etc. The "palette" in the name is a reference to an artist's palette which is used for mixing oil paint and acrylic paints.
Art knives come primarily in two types:
*Palette knife resembling a putty knife with a rounded tip, suited for mixing paints on the palette;
*Painting knife with a pointed tip, lowered or "cranked" like a trowel, suited for painting on canvas.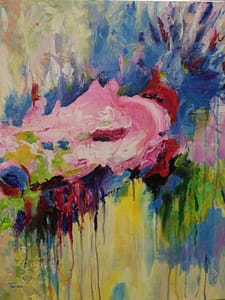 Impasto 
In fine art, the Italian word 'Impasto' (dough or paste) denotes a painting technique in which undiluted paint is applied so thickly (like toothpaste) onto the canvas or panel (often with a brush or palette knife) that it stands out from the surface. When using this impasto technique, the artist often mixes paint on the canvas itself to achieve the required colour.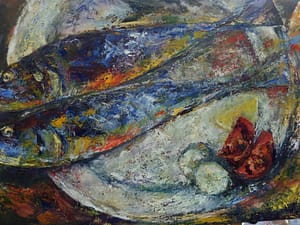 Oil painting is most suited to the impasto method, due to the viscosity of oils, their thickness and slow drying time, although acrylic paint or even gouache can be applied in the impasto style.
The impasto painting method offers the artist several advantages.
First, its raised surface causes light to be reflected in new ways that the artist can control. It was used frequently to mimic the broken-textured quality of highlights – that is, the surfaces of objects that are struck by an intense light.
Second, expressionists (notably Van Gogh) used impasto to convey feelings and emotion. Third, impasto can convey a three dimensional impression. Baroque painters like Rembrandt, Hals and Velazquez used minutely and painstakingly worked impastos to depict lined or wrinkled skin, folds in robes, or the glint of jewellery. Lastly, the rough texture can draw attention to certain points or aspects of a composition.