Glazes
Glazes can change the chroma, value, hue and texture of a surface. Drying time will depend on the amount and type of paint medium used in the glaze. The medium, base, or vehicle is the mixture to which the dry pigment is added. Different media can increase or decrease the rate at which oil paints dry.
Often, because a paint is too opaque, painters will add special media or a lot of medium to the paint to make them more transparent for the purposes of glazing. While these media are usually liquids there are solid and semi-solid media used in the making of paints as well.
For example, many classical oil painters have also been known to use ground glass and semi-solid resins to increase the translucency of their paint.
In oil painting, the simplest form of a glaze is a thin, oily, transparent layer of paint spread over the top of an opaque passage that has been given some time to dry. Light travels through the glaze and is reflected back off of the opaque layer below. This can cause a glowing effect similar to looking at a brightly lit white wall behind a film of colored cellophane. The thin oily layers of a glaze can facilitate the rendering of details that would be more difficult with opaque paints—e.g. the complexities of skin tones.
When multiple layers of glazes are used, the colors in all visible layers can appear combined. However, the pigments are not physically mixed, since the paint is left to dry before each successive glaze is applied. The artist may apply several layers of paint with increasing amounts of oil added to each successive layer.
This process of applying the fat layers (more oil in the painter's medium) over the lean layers (less oil) can minimize cracking; this is the "fat over lean" principle.
Many painters juxtapose glazes and opaque, thick or textured types of paint application (that appear to push forward) as a means to increase surface variety, which some painters feel increases a painting's drama, brightness and depth.
Fluid paints can be used like watercolors, or for glazing and washes. To create a more fluid texture, water is added to the paint. The ratio of paint to water depends on how thick the glaze is expected to be. An opaque glaze or paint consists of more paint than water, and will give a more solid color. A translucent glaze or paint will be the opposite, consisting of slightly more water than the opaque version, and will have a smoother texture. Translucent glazes show more of the colors underneath the paint compared to opaque glazes.
The paint should be watered no more than 50 percent or the paint will not stick to the canvas. After mixing the paints, allow time for the air bubbles to rise to the surface.
Palette Knife
A palette knife is a blunt tool used for mixing or applying paint, with a flexible steel blade. It is primarily us
ed for mixing paint colors, paste, etc., or formarbling, decorative endpapers, etc. The "palette" in the name is a reference to an artist's palette which is used for mixing oil paint and acrylic paints.
Art knives come primarily in two types:
*Palette knife resembling a putty knife with a rounded tip, suited for mixing paints on the palette;
*Painting knife with a pointed tip, lowered or "cranked" like a trowel, suited for painting on canvas.
Impasto
In fine art, the Italian word 'Impasto' (dough or paste) denotes a painting technique in which undiluted paint is applied so thickly (like toothpaste) onto the canvas or panel (often with a brush or palette knife) that it stands out from the surface. When using this impasto technique, the artist often mixes paint on the canvas itself to achieve the required color.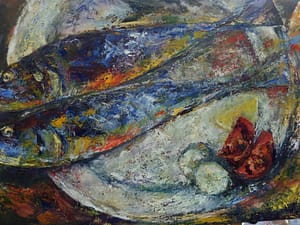 Oil painting is most suited to the impasto method, due to the viscosity of oils, their thickness and slow drying time, although acrylic paint or even gouache can be applied in the impasto style.
The impasto painting method offers the artist several advantages.
First, its raised surface causes light to be reflected in new ways that the artist can control. It was used frequently to mimic the broken-textured quality of highlights – that is, the surfaces of objects that are struck by an intense light.
According to a Art Business Today survey in 2003*, these were the Top 10 best-selling subjects for paintings in the UK:
1. Traditional landscapes.
2. Local views.
3. Modern or semi-abstract landscapes.
4. Abstracts.
5. Dogs.
6. Figure studies (excluding nudes).
7. Seascapes, harbour, and beach scenes.
8. Wildlife.
9. Impressionistic landscapes.
10. Nudes.